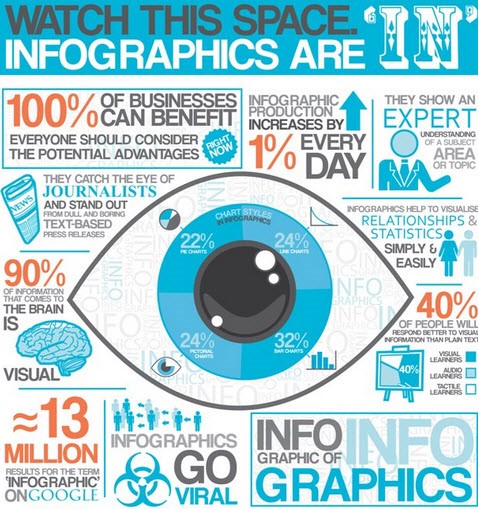 Today's consumer requires instant gratification and has little patience. The average attention span of the average Internet user is only eight seconds, that is one second shorter than a goldfish and four seconds shorter than it was in 2000 (Connor, 2015). When today's consumers receive something, they want it the second or minute before it actually appeared on their screen or was given to them. How do today's marketers standout in presenting information? Rather than reading line after line of boring text, why not something visual and entertaining? Something that clearly explains and compares information about a brand or a product. Why not an infographic?
Infographics are visual representations of information, data or knowledge that present information quickly and clearly. Infographics and advertising work together in a compelling way to interest readers by simplifying information of a complicated subject and giving the viewer a visually enjoyable experience. Infographics are one of the most effective strategies of a digital marketing campaign. An infographic should be visually engaging, contain a subject matter that is appealing to your target audience, and be supported by other engaging content across your website and social channels. Conversations among millennials via texting are mostly done in abbrevs (abbreviations) and emojis, expanding on the changes in the way we communicate today.
In conclusion, we are a very visual society. Infographics are an asset to marketers – they are more likely to be viewed or clicked on over an article, and also, an easier way for consumers to take-in and comprehend information. With that said, there is already too much text in this article, so check out the links referenced below and within the article for visually compelling infographics about infographics.
References
What is an Infographic? (2016). Customer Magnetism – Digital and Social Marketing. Retrieved from https://www.customermagnetism.com/infographics/what-is-an-infographic/
Connor, M. (2015). The Vanishing Attention Span of Consumers. Business 2 Community. Retrieved from http://www.business2community.com/infographics/vanishing-attention-span-consumers-infographic-01222971#vk2ePYbwzwEDgwQ5.97
http://www.mdgadvertising.com/blog/wp-content/uploads/2012/05/its-all-about-images-infographic_1000.png
http://www.digitaldoughnut.com/blog/blog/infographic-marketing--why-use-infographics-in-digital-marketing-infographic
Alexis Sergeant is an MBA student in the H. Wayne Huizenga College of Business and Entrepreneurship, Nova Southeastern University. She can be reached at as3181@nova.edu