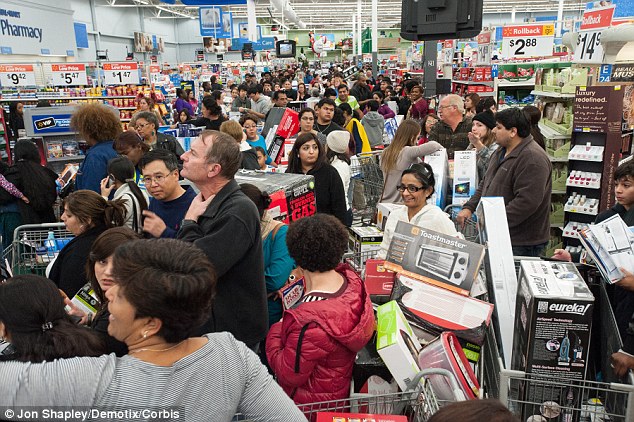 Companies and customers have long been up in arms about Black Friday! With a tough economy where companies are looking to increase sales and revenues, and where financially strapped customers are looking for the best deals, this Black Friday is full of expectations and hope on both sides. Furthermore, the recent election has not made customers any more relaxed about the economy than they did in the immediate post-recessionary period of 2008, and deal hunting and bargains can certainly go a long way to saving for an uncertain economic and financial future under a soon-to-be new government administration.
Just type in "Black Friday" in Google or another search engine and you will get an idea of the advertising frenzy, deals, and promotions. In fact, from mid-to-early October, Yahoo's Associated Press and other online news companies and forums had topics similar to the following: "… Black Friday Deals Leaked!" and dozens of others giving customers and prospects a sneak peek at leaked Black Friday deals. We all know by now that many of these so-called "leaked" ads and deals represent just another marketing and advertising tactic to get the buzz going! This is certainly needed to make this Black Friday a knockout one. Hopefully the number crunching will tell the bottom line story after this one-day-a-year frenzy has passed!
Black Friday is not just a super-shopping day that millions of Americans look forward to, but something that many save and plan for. As early as the end of October companies started building their marketing themes and ads around Black Friday, and dozens of articles across websites started offering Black Friday shopping tips on what to buy, where to go for bargains, including Black Friday do's and don'ts. For example, Courtney Jespersen, a staff writer from Nerdwallet.com, in her article "What to Buy, and Skip, on Black Friday 2016" written on October 21, 2016, advises customers to buy previous models of products in order to experience real savings, especially on Apple products, since "Best Buy, Target and Wal-Mart discount Apple products each year on Black Friday, and previous-generation models usually see the most dramatic deals" (Jespersen, 2016, p. 1). Additionally, she also advises shoppers to skip toys on Black Friday, perhaps waiting for the Christmas deals on toys from Kmart, Wal-Mart and Big Lots, and other companies – and in this same light, to also skip Christmas decorations, waiting till December 26 (Jespersen, 2016). Some consumers might find her advice on Christmas decoration a bit purposeless, but after all, you can save them for next Christmas. Jespersen (2016) also advises customers to skip winter clothing, bedding, and mail-in rebates, and instead, buy the major staple of Black Friday – electronics such as TV, tablets, smartphones, and other similar items including home appliances, video gaming bundles including CDs and DVDs. This is good advice!
Before you start getting too excited about Black Friday shopping, here are a few tips that will be useful in helping you remain a responsible, conscious, and rational, wise shopper:
· Check your finances! It is important to check whether or not you have disposable income to spend this Black Friday. If you simply don't have it, don't spend it. You still do not have to feel left out either. Spend the day or weekend doing something great – watch a movie, spend time with a loved one or loved ones, cook yourself a great meal, or something that makes you happy. Hopefully, it is not an expensive and regretful spending spree that gets your ticker going!
· Take it easy on your plastic and cash as we currently don't know where interest rates and the economy will go! You will have to pay back every dime you spend on your credit cards plus interests and the interests upon interests! Ellen Cannon, another staff writer from Nerdwallet.com, in her November 1, 2016 article "Best Credit Cards for Black Friday and the Holidays, 2016" reminds us to shop smart with our credit cards and to consider the savings in using store cards, whole-sale club card brands, or regular credit cards as you shop.
· Think and make a list of things you need rather than things you simply want. Many consumers shop on impulse, totally forgetting about their real needs. Impulse buying can cause post-purchase regret (Kotler & Keller, 2016) to become the highlight of your Black Friday shopping. Therefore, check your inventory of possessions before you decide to shop.
· Consider the days and weeks after Black Friday, and the upcoming Christmas opportunities for getting bargains. After all, this is not your last chance of the year to get some deals, and good shoppers after all, know how to deal hunt even when it is not a special day of the year. So, if you do not have the currency to get that new appliance or whatever it is this Black Friday, just thank God to be alive!
· Remember, you work very hard for your money, and deserve the best in customer value – highest level of service, top quality, and good prices – and businesses that treat you as their key asset and believe that the customer is king or honored guest (Weinstein, 2012). Therefore, expect great service as you exercise your buying decisions.
· Finally, be safe and watch your environment when you go shopping at the malls and plazas. Scan your environment as you enter parking lots and malls, lock your vehicle, do not leave your purchase visible for opportunistic predators, and keep your purses, wallets, and credit cards safe!
References
Cannon, E. (2016). Best Credit Cards for Black Friday and the Holidays, 2016. Nerdwallet.com, November 1, 2016. Retrieved from https://www.nerdwallet.com/blog/credit-cards/best-credit-cards-black-friday-holidays/?trk_app=nw_cc_black_friday&trk_destination=top1&trk_format=article
Jespersen, C. (2016). What to Buy, and Skip, on Black Friday 2016. Nerdwallet.com, October 21, 2016. Retrieved from https://www.nerdwallet.com/blog/shopping/black-friday-2016-what-to-buy-skip/
Kotler, P., & Keller, K.L. (2016). A Framework for Marketing Management, 6th Edition. Boston, MA: Pearson Education.
Weinstein, A. (2012). Superior Customer Value: Strategies for winning and Retaining Customers, Third Edition. Boca Raton, Florida: CRC Press.
Donovan A. McFarlane, M.B.A., M.I.B., Ed.D., is an Adjunct Professor of Marketing in the H. Wayne Huizenga College of Business and Entrepreneurship. Nova Southeastern University. He can be reached at donovan@nova.edu